Welcome to the International Amateur Radio Union Region 1 Homepage. The federation of national associations of radio amateurs from Europe, Africa, Middle East and Northern Asia.
The International Amateur Radio Union (IARU) is a federation of national associations of certified radio amateurs, representing over 150 countries and separate territories around the world.

The three IARU Regions are organised to broadly mirror the structure of the International Telecommunications Union (ITU) and its related regional telecommunications organisations. The Regions comprise:
- IARU Region 1: Europe, Africa, the Middle East and Northern Asia
- IARU Region 2: The Americas
- IARU Region 3: Asia-Pacific

The IARU represents the interests of the Amateur Radio Service worldwide to relevant international organisations, promoting the interests of amateur radio and seeking to protect and enhance its spectrum privileges.
International Amateur Radio Union - Region 1
Details

Category: News
Published: Monday, 27 June 2016 14:16
Written by Don Beattie
Hits: 1823

Two long-serving volunteers in IARU Region 1 were recognised for their work for IARU at the Friedrichshafen HamRadio event last week.
Christian Verholt, OZ8CY, (L) former Chair of the EMC Working Group and former EMC Advisor to the IARU International Secretariat, was awarded the IARU President's Diamond Award by Tim Ellam, VE6SH, IARU President, and Ole Garpestad, LA2RR, IARU Vice-President. The award is a new reward to recognise exceptional volunteer contribution over many years.
Christian was also awarded the Region 1 Medal by Region 1 President Don Beattie in recognition of his work on EMC matters in the Region ove more than 20 years. 
Wolfgang Hadel, DK2OM, (R) was awarded the Region 1 Medal by IARU Region 1 President Don Beattie, G3BJ, to recognise his ongoing exceptional leadership of the successful IARU monitoring system. 
Congratulations to both for their commitment to the work of IARU. 
Details

Category: Emergency Communications
Published: Tuesday, 21 June 2016 18:23
Written by Greg Mossop
Hits: 1956
Radio Amateurs in Cyprus are currently active in emergency activities tackling the biggest forest fire the island has ever dealt with in the Solea region. Activity is currently using only the VHF band, mainly the local RV48 (R0) and RV58 (R5) repeaters. Hams in and around Cyprus have been requested to keep clear of these repeaters to aid the emergency communications activity.
Fire fighting forces are deployed around the perimeter of the fire. The main fronts of the fire are active, but due to high winds and very high temperatures, the effort to extinguish the fronts seems mammoth. Thick smoke is complicating the task. In addition to the ground forces, a total of 16 aircraft are also operating, with aircraft coming from Israel, Greece and later today France and Italy.
It is estimated that some 20-25 sq km of forest have burned so far, while 4 villages are in grave danger of destruction, as fires are currently located on their perimeter.
Unfortunately two fire fighters have lost their lives in the line of duty, while another 2 are seriously ill in hospital. Cyprus frequently suffers forest fires during its hot summer months, but these are believed to be the first firefighter deaths for years.
Any additional information may be found on the CARS website at http://www.cyhams.org/

Info from Nestor 5B4AHZ
Details

Category: Latest
Published: Wednesday, 15 June 2016 17:50
Written by Vjollca Belegu-Caka, Z61VB
Hits: 1859
Z60A on the air from 6 to 11 July.
The 2016 IARU HF World Championship not only marks the very first entry of the Kosovo Amateur Radio Association (SHRAK) as a new HQ multiplier, but the week also represents multiple other valuables for Kosovar hams.
In a major outing, the SHRAK youth delegation headed by Driton Sadiku, Z61DX, with  Elona Shatri, Z63ESC, Edona Sela, Z63ESB, and Blindon Krasniqi, Z63BKA, will travel to the IARU YOTA conference in Austria. Their selected team will meet their initial instructors Hans, PB2T, and Martti, OH2BH, as a kick-off for their first trip outside Kosovo. This outing received the sincere support of the Amateur Radio Society of Austria (ÖVSV), the Embassy of Austria in Kosovo, and the Yasme Foundation, Inc.
The majority of the 50+ new hams in Kosovo come from the ranks of the Technical University of Pristina, leading to another interesting link taking place on the professional front. The local university rarely receives visiting teachers, and thus Dr. Kim Östman, OH6KZP, will give a lecture on the latest trends in RF microelectronics circuit development. This session is hosted by the Faculty of Electrical and Computer Engineering (FIEK) at the Technical University of Pristina, and the Dean of the faculty, Prof. Dr. Enver Hamiti.
The team will also exercise by hosting a new Force-12 XR6 beam with a Yaesu G1000DXC rotator on top of the university building, in the heart of capital Pristina. These were kindly donated by the Chiltern U.K. DX Foundation and by Force-12 represented by Bill Hein, AA7XT.
On the weekend the local folks team up with their visitors for the IARU Championship contest, at multiple locations in and near Pristina. The visiting operating team includes Hans, PB2T, Kenneth, OZ1IKY, Pertti, OG2M, Kim, OH6KZP, Martti, OH2BH, Pekka, OH2TA, and Mario, S56A.
73, Vjollca Belegu-Caka, Z61VB
President of SHRAK
Details

Category: Youth - general
Published: Wednesday, 15 June 2016 05:54
Written by Lisa, PA2LS
Hits: 1714
We are inviting you to join the International Youth Meeting:
Date: Saturday 25-6-2015
Time: 10.00
Place: Room Liechtenstein
With the following lectures:
La Radio è Giovane: YOTA the italian way - Silvio Gaggini IZ5DIY, Alex Carletti IV3KKW
(Statistics) about the success of ham radio training in Germany - Gerrit Herzig DH8GHH, Lars Weiler DC4LW
Youngsters On the Air
Host OEVSV of YOTA 2016 is proudly celebrating their 90th anniversary. OEVSV is inviting youngsters to meet at their booth in hall A1 which will be fully in YOTA theme! Everyone is invited to join on Saturday 25-6-2016, 15:30 hr, the flag ceremony.
The official YOTA flag will be handed over from the YOTA Italy 2015 team to the organizers of YOTA 2016.
We hope to see you at the OEVSV booth!
Details

Category: ARDF
Published: Wednesday, 15 June 2016 05:48
Written by Jirka, OK1CHE
Hits: 2413
2018 — IARU Championships
19th IARU World ARDF Championships, South Korea
Date: September 2-8, 2018
Venue: Sokcho
Event homepage: http://www.ardf2018.kr/
2nd IARU World Youth ARDF Championship, Czech Republic
Date: June 30-July 4, 2018
Venue: Doksy
Event homepage: http://wyac2018.com/
Details

Category: Emergency Communications
Published: Thursday, 02 June 2016 23:40
Written by Greg Mossop
Hits: 2075
On Wednesday 8th June between 1800-1930UTC Radio Amateurs from the DARES Emergency Group in the Netherlands and B-EARS in Belgium will be taking part in an exercise simulating a Power Outage in the south of the Netherlands and part of Belgium. In the exercise scenario the groups have been requested to provide welfare and secondary communications links between North Brabant ( near Eindhoven ) and the rest of the country.
The exercise will test the ability of the groups to set up a wide area VHF and a HF network on the planned frequencies of 7065 kHz ( Primary ) and 7110kHz ( Secondary ). The 7065 kHz frequency being needed as Novice Licences in the Netherlands ( PD ) are not allowed to operate above 7100kHz. Operations will be mostly voice but Winlink/Digital modes may also be used.
Radio Amateurs are asked to keep those frequencies clear for the time of the exercise.
Full information ( In Dutch ) is available on the DARES website at http://www.dares.nl/nieuws/245-oef-power-outage .
Details

Category: Latest
Published: Monday, 30 May 2016 11:48
Written by Dennis Green, ZS4BS
Hits: 2914
The new Region 1 HF Band Plan which comes into effect on Wednesday 1 June 2016 and the HF Managers Handbook ver 8.2 is available for download from http://www.iaru-r1.org/index.php/hf/hf-related-references
The Band plan can also be found under the Spectrum and Band Plan tab on the left hand menu
Details

Category: Youth - general
Published: Tuesday, 24 May 2016 21:09
Written by ES5TV, 9A5W
Hits: 2168
In 2016 we continued IARU R1's Youth Contesting Program (YCP). Youth from Region 1 travelled to the station of ES5TV (ES9C) and took part in the ARI International DX contest while another group went to 9A1A to take part in the CQ-M International DX contest.
The youngsters have written down a summary of the amazing experience they had during both contests, you can read them below:

ES9C
Peter (SA2BLV) from Sweden, Teodora (LZ2CWW) from Bulgaria, Dagi from ET3AA club station in Ethiopia and Fiodor (IZ7YBG) from Italy travelled to compete together with ES youngsters (ES7GM, ES5HTA) and a few local old timers at the station of ES5TV. The goal of winning the world was supposedly met with plenty of margin despite horrible propagation and somewhat limited contesting experience. Everyone was able to try out contesting in 3 different modes and 3 different operating positions (RUN/S&P/MULT). Having all the stations interlocked to each other provided the ops with a great challenge of trying to synchronize with each other's transmissions and avoiding getting killed by the mad RUN op who was blocked by 4 different stations all the time. Due to having another contester born into my family (ES5TV) Sunday morning I was not able to be present but everyone was having plenty of fun without it. Not to mention abundance of food prepared by Tonu, ES2DW on constant basis.
In total 1848 QSOs were made in Phone, CW and RTTY. Score: 3,086,350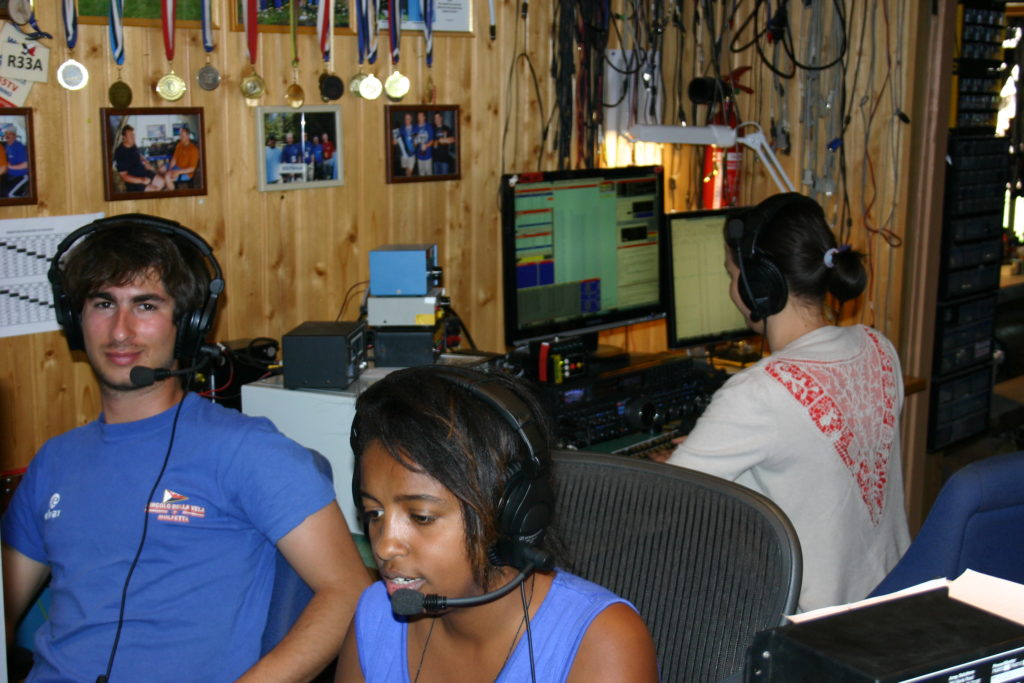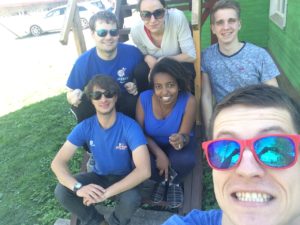 9A1A
Once again, the Croatian DX Club 9A1A, had the pleasure of being the host of the IARU Region 1 Youth Contesting Programme. Young contesters came from Hungary to participate in the CQ-M International DX Contest together with our club youngsters.
The members of the contesting team were the Hungarian youngsters Tomi (HA9T) and Novice OP Gabor; 9A1A young team members Mihaela (9A7MIM), Domagoj (9A7CDZ), Eugen (9A5AEV), Marina (9A5CKM), and Luka (9A5CPL); and experienced 9A1A team members Emil (9A9A), Braco (9A7R) and Nikola (9A5W).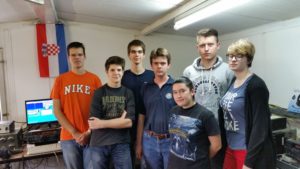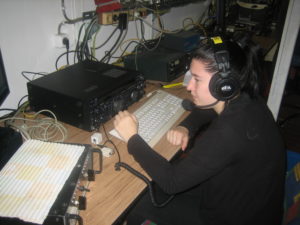 The youngsters arrived on the contest location on Friday May 13th where they spent the late afternoon and evening talking about the SAC SSB event, YOTA 2015 and future YOTA activities.
On Saturday morning in accordance to the contest rules the team prepared a strategy. With goal of allowing the young part of the team to handle the majority of the contesting participation.
We used the 9A1A call throughout the event. Equipment set up was as it is for Multi-Multi but with use of Multi OP-single transmitter contest rules. Propagation conditions were nice. A big surprise was that the there were 10 meter band openings on both days. As Saturday and Sunday were very rainy days, even with heavy rain showers, beverage antennas helped a lot to receive signals on 160, 80 and 40 meters bands.
Within 24 hours, 2273 QSOs were logged of which 90% were logged by youngsters!
It was obvious that they really enjoyed huge pile-ups on all bands after band or mode exchange.
Main business for 9A9A, 9A7R and 9A5W was coordination of band and mode use of the running station and multipliers.
In the end we achieved a promising score and we expect to be have top results in MOST categories.
Braco, 9A7R, was our main chef and took care of preparing food in big quantity and excellent quality.
Event impressions are excellent. Bigger than after SAC contest. World wide and multi mode contest gave the youngsters more fun and dynamcs in making QSOs. All of them agreed that in future 9A1A should organize YCP in such type of the contest.
Event was closed Sunday afternoon with pan-cakes in Velika Gorica, a city 17 km away from the contesting location. This city is also the was arrival and departure location for Tomi, HA9T and Gabor.
It was another nice occasion to exchange contest impressions, speaking about the possibility of a new YCP event in the second half of 2016 and in case that we repeat YCP participation in CQM 2017 how to improve QSO rates like some Russian stations did this year.
The youngsters' future plans in amateur radio were also discussed, where less experienced youngsters told us about their plans, specialy regarding knowledge of Morse code.