Welcome to the International Amateur Radio Union Region 1 Homepage. The federation of national associations of radio amateurs from Europe, Africa, Middle East and Northern Asia.
The International Amateur Radio Union (IARU) is a federation of national associations of certified radio amateurs, representing over 150 countries and separate territories around the world.

The three IARU Regions are organised to broadly mirror the structure of the International Telecommunications Union (ITU) and its related regional telecommunications organisations. The Regions comprise:
- IARU Region 1: Europe, Africa, the Middle East and Northern Asia
- IARU Region 2: The Americas
- IARU Region 3: Asia-Pacific

The IARU represents the interests of the Amateur Radio Service worldwide to relevant international organisations, promoting the interests of amateur radio and seeking to protect and enhance its spectrum privileges.
International Amateur Radio Union - Region 1
Details

Category: Latest
Published: Friday, 30 August 2019 09:31
Written by Don Beattie
Hits: 5811
The CEPT Conference Preparatory Group met this week in Ankara, Turkey. Items of interest to the amateur service which were finalised were:
- Agreement to a European Common Proposal (ECP) on allocating 50-52 MHz to the amateur service in Region 1 on a secondary basis with a footnote listing those countries where the amateur service will have a primary allocation in the band 50-50.5 MHz (WRC Agenda Item 1.1)
- Agreement to an ECP on spectrum to be considered for International Mobile Telecommunications, which does not now include the primary amateur band at 47-47.2 GHz (WRC Agenda Item 1.13)
- Agreement to an ECP that retains the current regulatory position in the 5725-5850 MHz frequency band which includes secondary allocations to the amateur service and the amateur-satellite service (WRC Agenda Item 1.16)
- Removal of 144-146 MHz from a French proposal for study of additional spectrum for aeronautical applications. (WRC Agenda Item 10)
- At the insistence of the European Commission, a WRC-23 agenda item was considered necessary to address the world-wide protection of Regional Navigational Satellite Systems from amateur emissions in the band 1240-1300 MHz. A draft WRC Resolution was agreed which underlines the importance of this frequency band to the amateur service and explicitly excludes the removal of existing allocations as part of the proposed agenda item. (WRC Agenda Item 10)
- There was no change to the already agreed CEPT position on Wireless Power Transmission (WRC Agenda item 9.1.6). This states that no change is needed in the Radio Regulations to address the question of operating frequency for WPT-EV, but leaves open the question of spurious emissions from WPT-EV.
Commenting on the outcome of CPG, IARU Region 1 President Don Beattie, G3BJ, said that the IARU team at Ankara (the only representatives of the amateur service at the meeting) had presented clear and convincing arguments for the amateur service position and he was pleased that regulators had recognised the strength of the amateur case. He expressed his thanks to everyone who had contributed to the outcome at CPG.
The issues now move to WRC in Egypt in November for final resolution. IARU will be there.
Details

Category: Youth - general
Published: Wednesday, 21 August 2019 19:05
Written by Monty, OE3VVU
Hits: 1150
From the 11th to the 17th of August 2019 around 80 youngsters from 27 countries met in Bankya, near Sofia, the capital city of Bulgaria to connect and learn from each other. The event was organised by the Bulgarian Federation of Amateur Radio as part of IARU Region 1's "Youngsters On The Air" program, abbreviated as YOTA. The summer camp is held in a different country every year, over the last years it has been held in Austria, the United Kingdom, South Africa and many more. YOTA is growing quickly, this year's summer camp demonstrated this especially well. The great majority of participants had never participated in a YOTA summer camp before, they are a new generation of young amateur radio enthusiasts. Another thing showing YOTA's success is the number of girls at the camp, 40% of the participants were YLs, a percentage not often seen in amateur radio.
During the week youngsters did a variety of workshops such as building VHF and HF antennas, electronic kits, and much more. However the focus of this week's presentations was on learning from each other: YOTA is shifting more and more towards a "youngsters for youngsters" approach where youngsters teach each other, rather than relying on older generations for input. A number of participating youth teams presented their youth activities. For example, the Finnish team gave an insight into the Nordics On The Air sub-regional camp, they not only showed how successful it was, but gave great tips and a good guide to organising such an event. The main goal of the YOTA summer camp is to give youngsters the ideas, knowledge and experiences they require to go back to their home country at the end of the week and start their own youth activities. The practical workshops are mostly easily reproducible so that youngsters could use them to introduce new young people into the hobby. For example youngsters might do a kit building workshop at a local school or use the antenna built at the camp to do a SOTA activation together with some new youngsters.
Sub-regional camps like those held in Finland, Italy and Germany in the last years are being organised more and more. For example, the next one is already being held in September in the Czech Republic, followed closely by a camp in the Netherlands in December. The idea behind a sub-regional camp is to bring together around 30 youngsters for an extended weekend, for example from Thursday until Sunday. Other than the YOTA summer camp, these camps are also used to bring new youngsters into the hobby. Un-licensed youngsters who know relatively little about amateur radio are invited to these camps to show them how interesting and fun amateur radio is.
The Italian youth team's presentation showed very well that a sub-regional camp can be organised on quite a limited budget, their camp only cost 25 euros per participant per day. Furthermore they showed how such an event can re-vitalise a local radio club. The radio club supporting the event gained many new members as many of the participants of the camp did their license after the camp and joined the club. Furthermore the existing members of the club became more active as they organised the camp together.
A large number of youth teams now want to organise such an event, and during the coming months there will be many applications to IARU to hold a YOTA sub-regional camp. What the participants learnt at the YOTA summer camp will be an invaluable resource for organising sub-regional camps and youth activities on any scale.
A special thank you to BFRA for hosting this great event!
Details

Category: Youth - general
Published: Wednesday, 14 August 2019 07:48
Written by Lisa, PA2LS
Hits: 573
We

are happy to announce an additional YOTA Sub-regional event for 2019:
Radio amateur adventure weekend of Western Slavs.
The camp is mostly meant to get to know each other.
When? from 27.9. to 29.9.2019
Where? www.vyhlidka-blansko.cz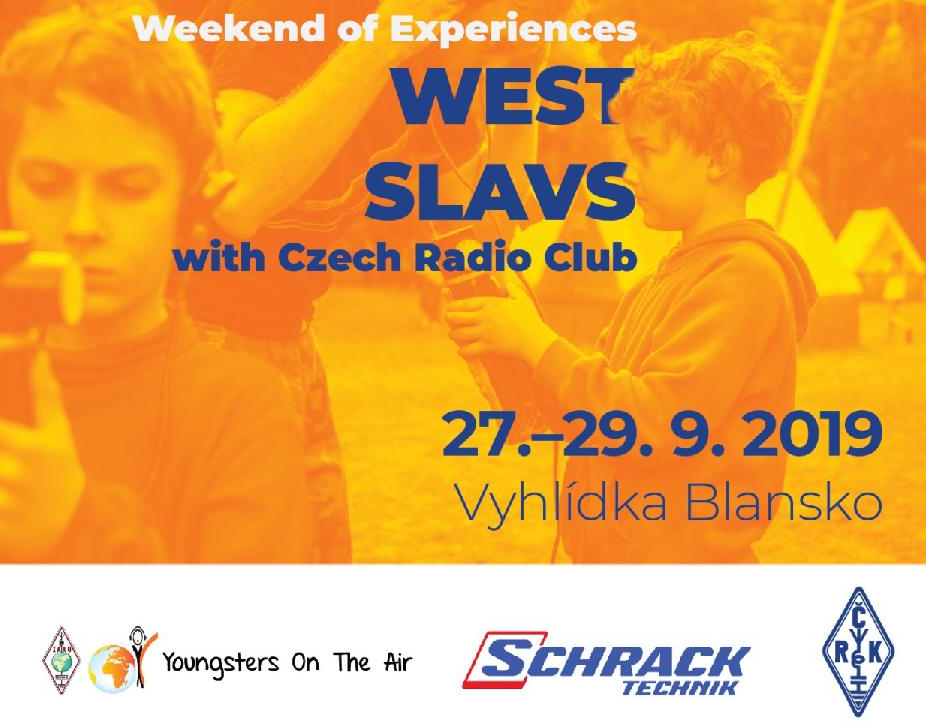 Why? Do you want your youngsters to experience the unforgettable magic of amateur radio? Send them to the Czech Radio Club for the weekend! They get to know new friends and get to know what radio and electronics are and how it works. We tell him about radio broadcasting and it's up to them if they'll use this new information and skill in their next lives. These days it's an easily available hobby that a lot of kids dream about. Your youngster will develop a totally new view on computers, mobile phones and all the modern electronics.
To who? We welcome both girls and boys from 10 to 25 years old.
How much does it cost? Since the IARU and the CRK financially support the event, the participation fee is 500 Kč (Czech currency) – we offer accommodation, catering, drinks and professional lectures.
If we have not a car. Transport will be solved individually depending on our agreement.
If I have more questions. If anything is unclear, just write an email to This email address is being protected from spambots. You need JavaScript enabled to view it.
Where can I register? Send an e-mail to This email address is being protected from spambots. You need JavaScript enabled to view it. with request for registration form. Keep in mind that we only have 30 seats.
Note: This is an English translation of the Czech version, which can be found on the Český Radioklub homepage
Details

Category: Latest
Published: Tuesday, 13 August 2019 10:03
Written by Don Beattie
Hits: 7313
The final CEPT Conference Preparatory Group (CPG) prior to WRC 19 takes place from 26 August. There are several issues of particular interest to the amateur service to be discussed:
• 50 MHz: IARU hopes that the European Common Proposal for WRC-19 will be supported by member states, with as many as possible signing the optional footnote to allow primary access on a national basis over part of the band being proposed for amateur use.
• 144-146 MHz band: IARU has asked its member societies to explain to their regulators the concerns of the amateur service over the French proposal to propose a WRC-23 agenda item to study sharing the 144 MHz spectrum with aeronautical services. IARU has submitted a paper that includes background on amateur usage and regulatory concerns. It also includes a basic technical analysis showing the impracticality of such a proposal and believes there are much more appropriate parts of the spectrum for this study.
• 1296 MHz band: IARU has asked its member societies to discuss with their regulator the best way of resolving concerns about a few cases of interference to the Galileo navigation system that are specific to its 'E6' sub-band at 1260-1300 MHz from amateur signals. It is IARU's firm view, and stated in the paper it has submitted, that this should be properly studied in CEPT, rather than proposed as an agenda item for WRC-23.
• 5 GHz and 47 GHz bands: IARU will be seeking support from Region 1 administrations for a 'No change' approach to the current regulatory situation in the 5650-5850 MHz and 47-47.2 GHz frequency bands. IARU experts will be present in CPG to explain the IARU position on these topics and monitor other agenda items of interest.
Details

Category: Latest
Published: Tuesday, 13 August 2019 09:53
Written by Don Beattie
Hits: 699
The ATU African Preparatory Meeting (APM) prior to WRC 19 takes place 26-30 August. ATU is one of the four Regional Telecommunications Organisations in Region 1 and IARU will be present at the meeting. IARU has particular interest in the following issues being discussed:
50 MHz: IARU hopes that the APM will build on existing provisions in the ITU Radio regulations for a number of African countries, to support 50 MHz primary allocations throughout the African continent, as part of the support for a Region-wide allocation to the amateur service harmonising with the allocations already in place in Regions 2 and 3.

5 GHz and 47 GHz bands: IARU will be seeking support from Region 1 administrations for a 'No change' approach to the current regulatory situation in the 5650-5850 MHz and 47-47.2 GHz frequency bands.

There is no evidence yet that the 144-146 MHz and 1240-1300 MHz band issues being considered in CEPT will be discussed in the APM but IARU will be prepared should this happen.
Details

Category: Youth - general
Published: Tuesday, 30 July 2019 19:45
Written by Lisa, PA2LS
Hits: 716
Winter-YOTA is a sub-regional Youngsters On The Air event, in The Netherlands as part of the VERON youth committee.
The Dutch version of this page can be found via this link.
This year, in the middle of December, it's time for Winter YOTA. A fun radio camp especially for youngsters. Would you like to learn more about amateur radio? Did you just pass your radio license exam? Or have you been active already for a couple of years? You're invited to take part in this unique event! Which is full of amateur radio activities and most important – a lot of fun!
Who?
Are you 16-25 years old and interested in amateur radio? Then you're the perfect fit for this event. You don't need to be a licensed radio amateur to take part, also newcomers to the radio hobby are welcome. We only ask you to be a member of one of the IARU member societies.
When?
Arrival: Thursday 12 December after 15:00
Departure: Sunday 15 December in the morning after breakfast
Where?
In the forest nearby Oosterhout (Noord-Brabant), The Netherlands. There is a camp building with all required facilities, such as sleeping places and space for activities.
Winter YOTA Programme
At the moment, we are working hard to finish the full program. However, we can inform you that it's going to be very interesting. It will be packed full with workshops and all kind of activities regarding amateur radio. Since the location is in the middle of the forest, we will have activities outside in the woods.
December is also December YOTA month. Youngsters across the planet will be active with callsigns with YOTA in its suffix. We will be taking part in this event as well, using the callsign PA6YOTA.
In short, you won't get bored, next to the program we will take care for breakfast, lunch and dinner. It will be fun event! If the weather is with us, we will have a winter-campfire evening.
Costs?
Biggest part of the event is funded by IARU R1 and the VERON funds. We ask all participants to contribute a fee of €25.
Accommodation, 3 meals a day and activities are covered.
How to apply?
You can apply via this link
Keep in mind that we have a limited amount of spots available and thus might have to pick who can come.
When you register for the event, you will automatically apply for the newsletter.
Do you have any questions, or are you looking for more info? Feel free to send an email to: This email address is being protected from spambots. You need JavaScript enabled to view it.
Details

Category: VHF/UHF/SHF
Published: Tuesday, 16 July 2019 07:46
Written by ON4AVJ
Hits: 797
The latest edition of the VHF Newsletter has been mailed to all on the VHF mailing list and can be found here. The new version of the VHF Handbook, 8.50, with the recommendations of our Interim meeting in Vienna is published.You can download it here