Welcome to the International Amateur Radio Union Region 1 Homepage. The federation of national associations of radio amateurs from Europe, Africa, Middle East and Northern Asia.
The International Amateur Radio Union (IARU) is a federation of national associations of certified radio amateurs, representing over 150 countries and separate territories around the world.

The three IARU Regions are organised to broadly mirror the structure of the International Telecommunications Union (ITU) and its related regional telecommunications organisations. The Regions comprise:
- IARU Region 1: Europe, Africa, the Middle East and Northern Asia
- IARU Region 2: The Americas
- IARU Region 3: Asia-Pacific

The IARU represents the interests of the Amateur Radio Service worldwide to relevant international organisations, promoting the interests of amateur radio and seeking to protect and enhance its spectrum privileges.
International Amateur Radio Union - Region 1
Details

Category: EMC
Published: Monday, 31 August 2015 10:01
Written by Thilo, DL9KCE
Hits: 2204
ICNIRPcalc is arround for a while. You can calculate the distance persons need to stay clear from a given antenna, so European exposure limits are not exceeded. The new Version has no changes in the program itself, just the antenna database was enlarged. Download here.
Details

Category: Emergency Communications
Published: Saturday, 29 August 2015 15:19
Written by Greg Mossop
Hits: 1970
Radio Amateurs have been active in responding to the consequences of Tropical Storm Erika as it progressed through the Carribean.
The Radio Club of Dominica were active on 7.065MHz, 3.780MHz and local repeaters working with their Nation's Emergency Operations Centre, Civil Defence and the Dominican Red Cross collecting reports from their members around the country. The storm killed 20 people in the Dominican Republic as 200-300mm of rain fell in 12 hours causing flooding and mudslides. Damage assessments are ongoing in the country which was reported to have had widespread power failures.

Although the storm is officially classed as dissipated, fears over the remnants of the storm as it passes over Cuba and then nears Florida on Sunday mean that local emergency groups remain alert and other countries in the Carribean are also ready to respond if needed.
Although band conditions have been poor for the last two days, Radio Amateurs are requested to listen carefully when operating around the pubished Atlantic Hurricane frequencies to ensure that there is no interference to any emergency traffic.
Sources: César Pio Santos HR2P, Rafael Martinez HI8KW
Details

Category: Latest
Published: Wednesday, 26 August 2015 07:06
Written by Dennis Green, ZS4BS
Hits: 1682
Radio amateurs in South Africa have had access to 40,675 to 40,685 MHz for many years, but is was only really noticed earlier in 2015 when the new radio regulations were promulgated by ICASA, the South African Regulator.
In a telephone conversation, Willem Badenhorst, ZS6WAB, informed the South African Radio League about the first-ever ZS to ZS contact on 40,675 MHz. It was made on Sunday 16 August 2015 between Ian Roberts, ZS6BTE, in Johannesburg (KG33xv) and Willem, ZS6WAB, at Polokwane (KG46rc) using FSK441 and covering a distance of 288 km. Both stations are equipped with a three element Yagis and 100 Watts.
Details

Category: News
Published: Saturday, 08 August 2015 07:22
Written by Don Beattie
Hits: 3129
The following announcement has been released by the IARU International Secretariat:
For some years, IARU has sought, through its group of volunteer satellite coordinators, to assign appropriate frequencies to be used by space satellites operating in the amateur bands. These efforts have generally been successful, allowing satellites to operate without undue interference to each other and to other services using the bands in question. The IARU role in coordination of frequencies is supported by ITU.
IARU is aware of a few satellites already operating in amateur bands which are causing difficulties in parts of the world as the frequencies they use do not appear to accord to existing band plans. IARU has now become aware of plans to launch a series of satellites where the frequencies proposed appear to conflict with existing IARU band plans in some parts of the world. IARU is investigating how this has arisen, and is discussing the issues with the parties involved.
We will make a further statement as soon as possible.
Details

Category: Youth - general
Published: Saturday, 08 August 2015 13:56
Written by Don Beattie
Hits: 2133
IARU Region 1 has a rapidly developing youth programme to encourage the recruitment, growth and development of young people in Amateur Radio.

Modern standards require proper safeguarding of young people. The "IARU Region 1 Child Protection Policy" has therefore been implemented, which sets out the responsibilities of all those who are in a supervisory role during such IARU events.
For the full policy (pdf) click here
For Appendices 1-3 to complete ("Word" format) click here
Details

Category: Latest
Published: Friday, 07 August 2015 10:32
Written by Andy Thieman, HB9JOE
Hits: 1752
While spending their summer holiday in EA7 (Malaga, Spain) in the second part of July 2015,  IARU Region 1 Treasurer HB9FPM – Eva Thiemann and her OM Andy HB9JOE visited the Gibraltar Amateur Radio Society (GARS) in the presence of its Executive Committee and members. Local and regional Amateur Radio related discussions took place. Gibraltar is not part of CEPT and the authorities do not issue reciprocal licences for HF operation. But for some time it is possible to get a licence for operating on 6 and 2 m.
Eva, HB9FPM, and Andy, HB9JOE, thank GARS again for their warm hospitality. The participants can be seen on the photo.
Details

Category: Youth - general
Published: Wednesday, 05 August 2015 11:37
Written by Lisa, PA2LS
Hits: 1484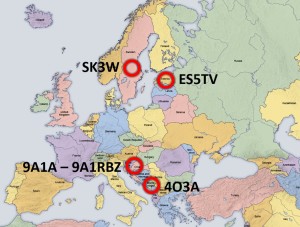 In 2015 a new Youth Contesting Program (YCP) of IARU R1 will start. Youth members from IARU R1 member societies are invited to take part in a contest from so called "Top-Gun" stations. These young HAM's will learn how to operate the contest station, improve their contest skills and will aim for the best results together as a team.
A youngster will probably be coming for the first time to the host country and will get the chance to experience this country and share amateur radio knowledge with local youngsters.
For more information and the application form visit this link.
Details

Category: Youth - general
Published: Monday, 20 July 2015 13:14
Written by Lisa, PA2LS
Hits: 2241
5th Edition of Youngsters On The Air started last Saturday in Marina di Massa, Italy. This year for the first time also teams outside Europe –Oman, Tunisia, South Africa– travelled to the YOTA event. All activities are organized by ARI and handled by ARI Tuscany Regional Committee.
The youth had already the opportunity to take part in a US license exam, tasted food and drinks from all countries and listened to a presentation from the Italian DXpedition team in Africa.
Follow the youngsters on www.ham-yota.com. They are actively posting blogs, pictures and movies. Or try to make a QSO with II5YOTA. This special callsign is active till 25th of July.